An Online Community across the globe connecting students to the institution and to one another. One place for student groups, events announcements, institutional communication, classified ads and alumni mentoring and more.
MY ROLES
user researcher

designer of UX, UI, logo, branding

web developer: PHP, javascript, HTML, CSS

project manager & product owner
---
Challenges
When the largest seminary in the world began to see its online degree programs grow, the faculty and staff began to ask some important questions about the nature of community online.
What important, formative experiences will students miss if they only study online?
What aspects of campus life are valuable to students to students who don't visit campus?
How can we make this online community both expressive of and formative of the sort of culture we hope will grow there?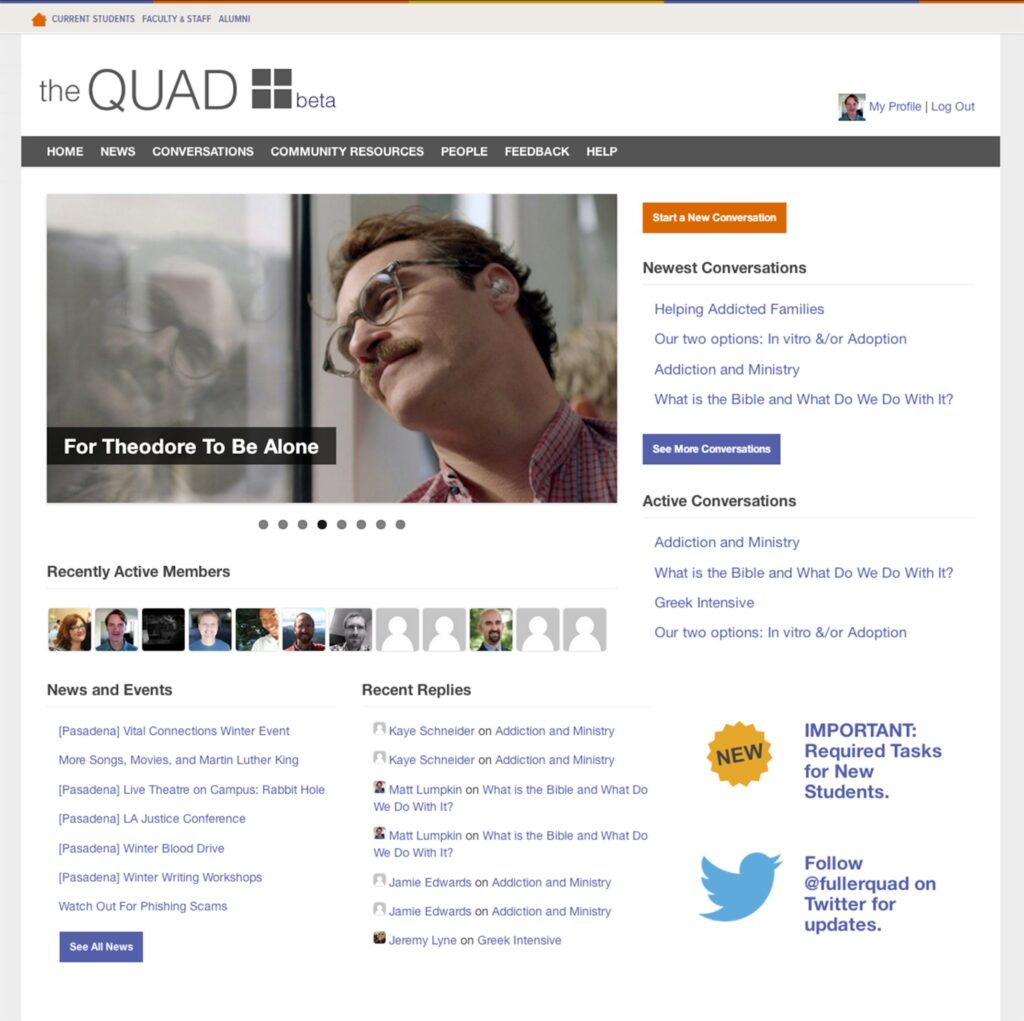 Connecting Students to One Another and to the Institution
We started by hosting a few conversations with a small number of key leaders among the faculty, staff and students asking questions a lot like those above. The consensus was there there was no one community of Fuller so that whatever we made would succeed if it helped connect students to the people, programs and departments who were engaged in work and study that they cared about.
"You'll spend all your time policing the conversations."
One concern that emerged repeatedly was that if you created a means for students to post messages that it would swiftly devolve into trolling and nastiness. I was skeptical of this but it was an important concern that we noted to address in the design phase.
User Research With Students
Next I began having one-on-one conversations with a representative sample of the main campus students, as well as traveling to our regional campuses and meeting with students via video chat. The goal here was to share a few possible ideas about what this website might be and do. It quickly became clear that main campus students already had organic ways of finding other students who shared their interests and could simply walk to the offices of faculty, staff and research centers they were interested in engaging.
"We should do Live streaming video. That way they can join in on the life of the campus." We heard this again and again from faculty and staff based at the main campus. There was so much going on that they wanted to be able to capture and share it with remote students. And yet remote student life looked very different from main campus student life.
Remote or "distributed" students were often studying part-time while working. Main campus students were studying full-time. Distributed students were interested in time-shifted media, or podcasts they could listen to on their own time, but if they had the time and space to be physically present, they would already be doing that. In an age of on-demand video, live-streaming felt like a step backward.

Core Problems to Solve
After conversations with students we settled on a design that would address the following student articulated needs:
A central location for listing all events, whether organized by the school or by students
A central location for listing all student interest groups and student government
A Place to post classified ads: find roommates, buy and sell books, cars, etc.
A place where students, could find other students who care about or are actively involved in the kind of ministry, research or work they want to explore. This would require student profiles with interests.
A place to discuss the personal, often deconstructive process of theological education exclusive to people engaged in the school community: students, faculty, staff and alumni only.
Building
We needed a place-holder up and quick to make a good-faith effort to our accreditors so we created a course shell in Moodle, our learning management system, with a forum for student discussion. That bought us a few months to actually build something. We quickly settled on wordpress for its open-source credentials, strong community, plugin architecture and relative match to our problem set.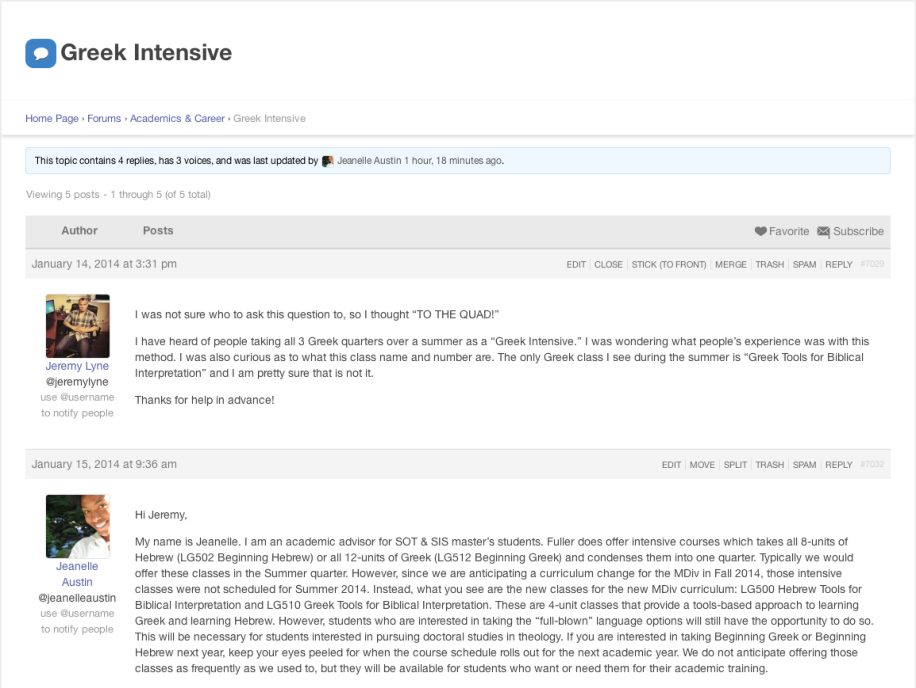 To Forum or Not to Forum?
As ubiquitous as forums are among online communities on the web, I was skeptical about whether students who were already spending a significant portion of their online study conversing asychronously would want to join another forum. We built out prototype sites using Jeff Atwood's (Discourse) [https://www.discourse.org/], Automatic's P2 wordpress theme, and more vanilla options like bbpress.
As we tested those with a small group of students, staff and faculty, it was clear that the more complex the interface, even of a familiar UI convention like forums, the more confusion resulted. We landed on BBpress, a forum plugin for WordPress with user profiles and were swiftly building it out for a private alpha.
Private Alpha Pushes us To Change Platforms
We invited our user group into the private alpha built on bbpress and they were moderately engaged. Most of the posts were playing with features and getting familiar. Overall they found the forums acceptable but the user profiles were fairly limited and most importantly it was very difficult to directly message other users. Further there was limited ability to create groups.
It was around this time that we discovered the City University of New York (CUNY)'s Academic Commons. Built on top of Buddypress, a plugin we had rejected earlier due to its overkill of features and complexity, as customized by CUNY, it seemed to resolve a lot of the user issues that emerged from the alpha.
Using a new instance of WordPress we installed our own "Commons in a Box" customization of Buddypress and began refining the visual identity and user flow to work with our single-sign-on.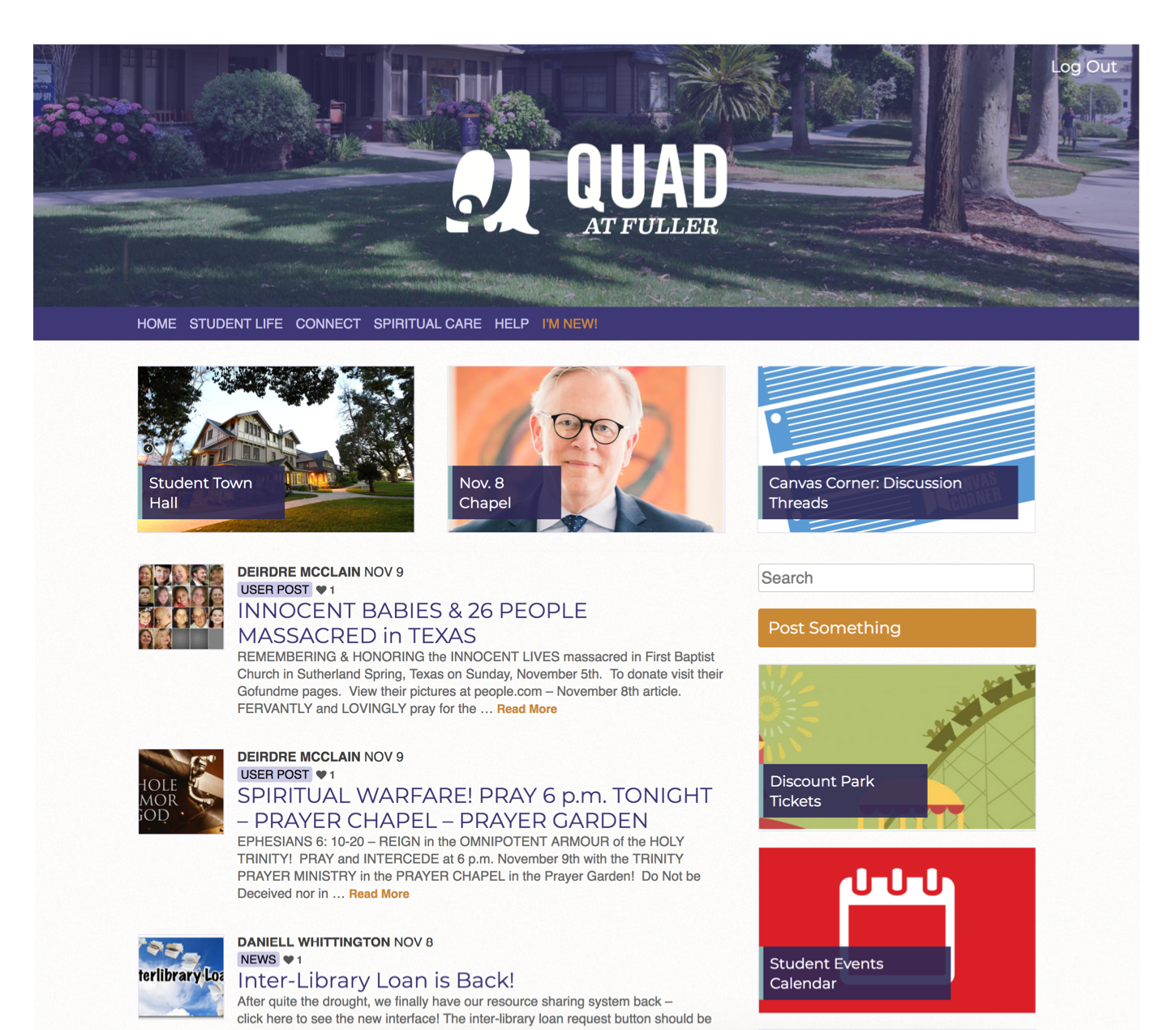 First Year in Beta: Lessons Learned
After the project was named "The Quad" by the senior leadership of the school, we launched in the Fall of 2013 alongside a redesign of the main fuller.edu website, and the launch of rebranded Single Sign-On. It was a lot of change all at once.
Planting the Culture You Hope Will Grow
We learned from the experiences of other online communities in our roll-out by identifying leading voices within the community who we knew would reflect and embody the ethos of civil discourse, graciousness and respect on the platform and gave them early access to begin writing, posting and engaging so that when the rest of the students arrived they would accommodate themselves to it.
Sign Your Name
Since we had limited the Quad to people who had a formal relationship with the institution, we were also able to tie their actual names to their accounts and postings. This was a conscious choice designed to encourage respectful discourse and accountability for postings. And it has worked remarkably well. We intervened precisely once in a conversation that was taking a turn towards personal attack. And our approach was not to ban the user but to remind them of the community standards to which they were already committed. The user took a break to cool off for the rest of the day then came back with an apology. This is not surprising given the amount students, faculty and staff have invested in their relationship to the school. The most effective means of encouraging good behavior is to make signing one's name mandatory. The prospect of being seen behaving badly by ones peers and teachers goes a long way towards encouraging self-policing.
Faculty Draw Students But End Conversations
Everyone was excited about faculty engagement on the Quad. The faculty draw the students to the school in the first place, and their posts and even comment threads did garner more egagement. However we noticed that once faculty joined lively conversation threads and often wrote longer, definitive answers to questions they effectively ended those conversations. The authority had spoken. Who would dare challenge them?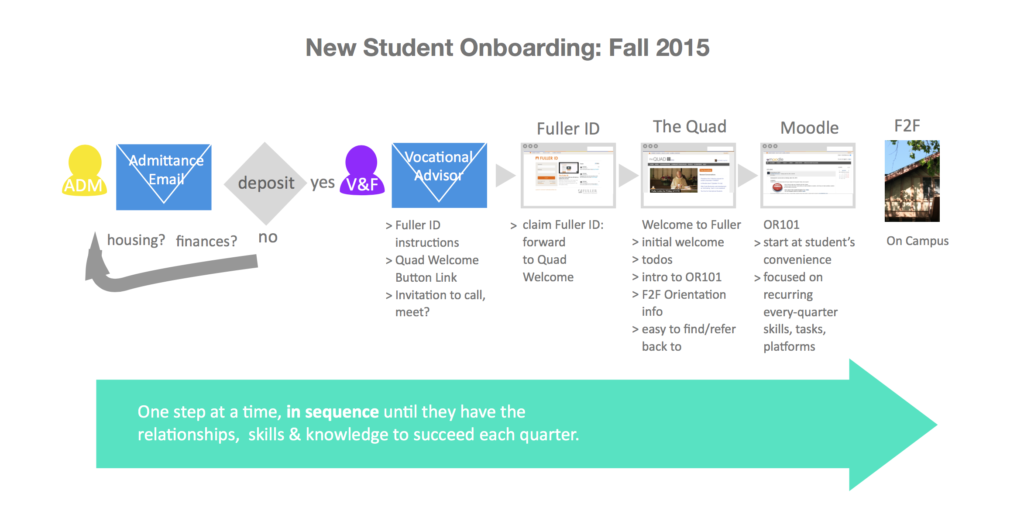 User Sign-Up Flow is Key
New students did not find their way to the Quad in the Fall. The new student orientation failed to include it and there was nothing in the claiming of new student accounts that pushed them toward it. We worked to solve that with the department responsible to move that orientation content to the Quad and to invite users to login to the Quad and share their interests prior to classes.
Sharing the Paradigm with Staff Was Key
Since the staff of the school had only ever used email to interact with the student community they struggled to make the leap to using the Quad to talk to students. It wasn't until we deployed the Employee Intranet a year later and pushed all internal employee communication to posts there aggregated in a weekly digest email, that staff began to understand the power of communicating with posts rather than emails. We saw a marked embrace by staff and schools seeking to communicate with students after they had seen the power of that shift to transform internal communication.
Who Gets to be Central?
One common and persistent complaint is that despite the higher engagement on the Quad from online students, much of the content and posting remains main-campus-centric. While this is certainly an accurate perception, the solution remains illusive. Just as distributed work-forces only achieve true employee parity when everyone joins meetings via video-conference, perhaps this is a problem we can't fully resolve until the school itself becomes de-centered. Until then the bias of writing, posting and creating as though main-campus is the "real" Fuller while all others are "far flung," "around the globe" or otherwise made to feel at a distance.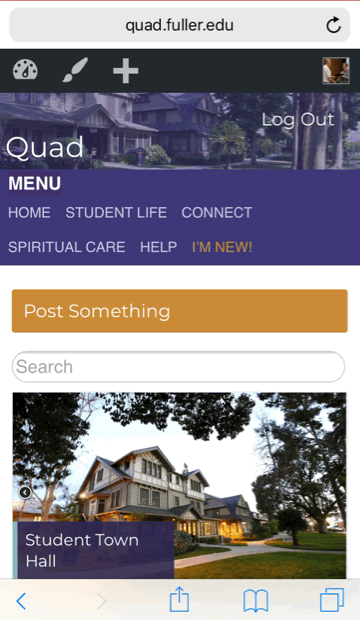 Outcome
The Quad has continued to grow and develop into a place where new students find their way to student groups and organizations hosting conversations they care about. It is still used more by online and distributed students than by main campus students. Online students simply need it more. Which was the initial hunch that drove the project in the first place.
As the balance of student enrollment has shifted further away from full-time, main campus life to globally distributed part-time study, the Quad remains the starting place for online students in engaging the rest of the richness of the institution.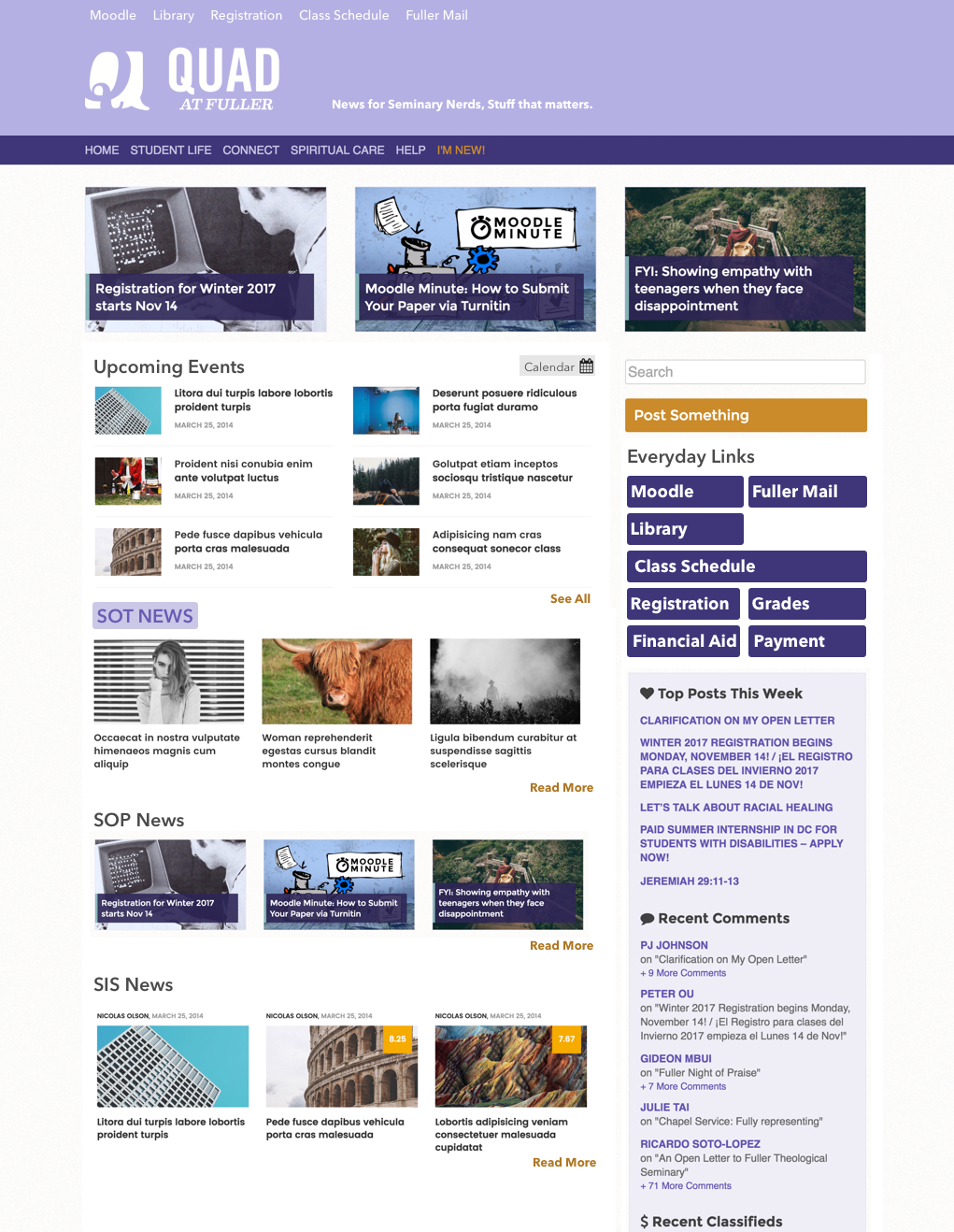 ---