A private, responsive website, that also places users into department-based groups with access to author knowledge bases for process documentation that outlives any one employee's tenure.
MY ROLES
user researcher

designer of UX, UI

information architect

web developer: PHP, javascript, HTML, CSS

project manager

site admin trainer, ongoing support
Challenge:
Transform a repository for Human Resources authored employee reference information and links into an internal communication platform that provides department specific knowledge bases and team-editable pages to host internal forms, processes, and other employee-facing content.
In addition, the stakeholders had set a goal for this site to increase company transparency and decrease email overload.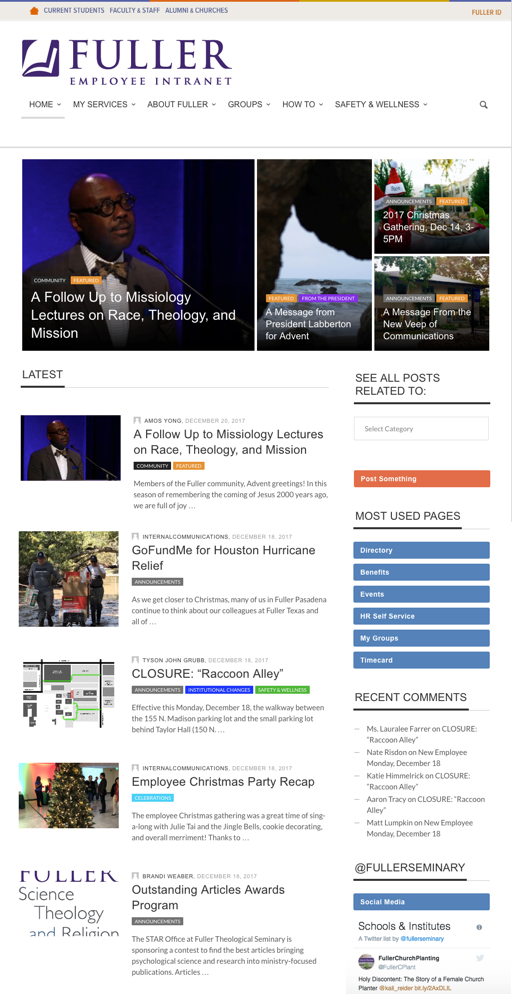 Outcome:
We designed a responsive website, accessible only to employees, that also placed users in internal department based groups with associated knowledge bases for them to privately document team processes in a way that would outlive any one employee's tenure on a team.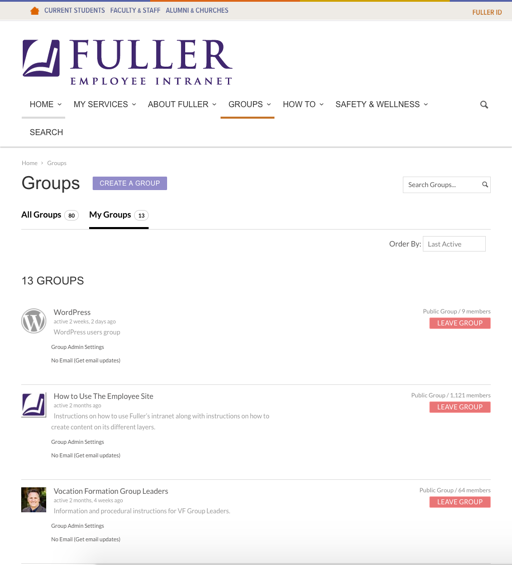 New Group? No Problem.
We chose multi-site because of the dynamic nature of the organization's internal units and because of our anticipated need for adding new cross-departmental groups made up of users of shared software and database tools. We knew that once the knowledge base (KB) idea took hold many groups would want those tools and multi-site enables us to create new group and associated site in a few clicks and no technical knowledge.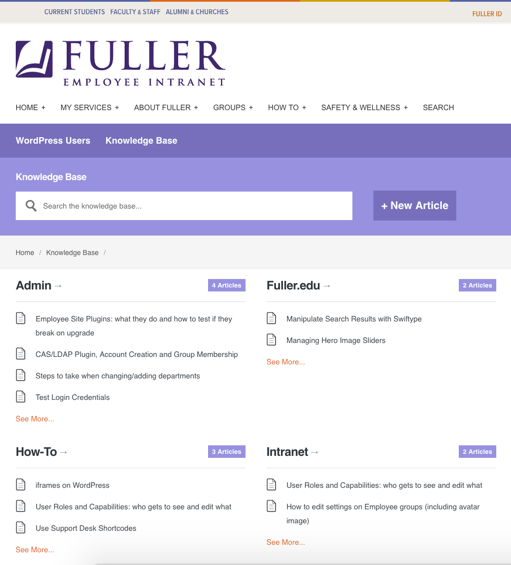 From Email to Posts
One critical requirement for the project was to make internal communication more transparent. Despite multiple emails about organizational changes, new hires, new policies etc. many employees felt they were missing out on crucial information. There was a high signal to noise ratio. Users were requesting a paradox: more communication with less email.
After talking to users we discerned that the problem was not so much the email but difficulty in determining the priority of any one email or message. Further there was the sense that emails get buried and critical information they needed to refer back to was lost.
In collaboration with the internal communications and human resources teams we designed a new process for employee to employee communication (including communication from Sr. Leadership to employees). If it is relevant to all employees, it should be created as a post on the Employee Intranet. The most important posts, as decided by the two departments, would be aggregated into a weekly employee digest email, sorted by priority. If you want an email to be sent out to all employees you must make a case why it is time-sensitive enough not to wait until the following Monday.
By adding the "Post Something" button to initiate a new post we enabled any employee to share news from their department. But by setting their user role to "contributor" they can't publish directly but can only "submit for review," by an administrator who often was able to catch typos and ensure quality.
As with any culture change there were complaints, but over time the persistent record of institutional changes over time and valuable information overcame them and the employees came to appreciate the filtering done by the weekly digest editors.
One additional outcome is that most employees now have experience creating a post in WordPress. Which was a key strategic move towards migrating the public facing institutional website to wordpress later.